Congratulations, you have arrived at
The Tooting Broadway
Underground
Theosophy Website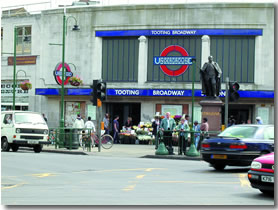 Insatiable Man
By
Ernest Wood
It is agreed on all hands that all men want to be God, that is to say, they want
to have omnipotence, omnipresence and omniscience. How often have I wished that
I could be in two places at once, and that desire were granted I should want to be in a hundred! It may appear for some little time that a man is contented with smaller things, such as a home and happy wife and children. But this is only a smooth harbor following a troubled voyage and very soon dissatisfaction (I do not like the word discontent) will raise its head and he will yearn - not for storms, as some believers in the "Old Adam" seem to think, but for something a little nearer omnipotence, omniscience and omnipresence.
And ever and anon new fuel is added to the fire of his dissatisfaction, whenever he thinks of power or knowledge or ubiquity greater than his own. Consider this and you will see that desire is the mainspring of our
progress. Necessity may be the mother of
invention, but desire is the mother of our necessities. The world would make no impression on a man without desire to seek pleasures or to avoid pains. Therefore desire is something to be cherished, to be encouraged, but at the same time to be studied and understood.
Study the effects of desire in your own character and environment. It is constantly introducing us to new experience. It makes us explorers and inventors in every way - in the uncharted wilderness, in the depth of the ocean, and even in the heights of the air. And experimenters, explorers and inventors also in the great field of emotion and thought, beginning with lust, wrath and greed, and ending with beautiful flowers of human affection when the psychological
wildernesses and jungles have been explored and cultivated, and converted into
smiling orchards and gardens.
It ought not to be too much trouble to dwell in moments of leisure upon the meaning and use of desire. I know that many people will say, "It is difficult, and our stupid minds see nothing". But go on trying, and not caring whether you succeed or not, and within a week you will see the nature of your desire and whither it is tending. And you will see also that knowledge of this fact, is the first step on a swifter road of evolution, [ I prefer the world "evolution" to "progress", because it implies the unfoldment of our own powers, like a bud
opening into flower, while "progress" suggests going forward to something which
is not already in seed within us.] that with this knowledge you can save yourself from wandering miserably in the old paths, from carrying the dark part of your past into what ought to be a brighter future. It makes the difference between rowing a boat and putting up a sail.
The Tooting Broadway
Underground
Theosophy Website
Find out more about
Theosophy with these links
Theosophy links
Independent Theosophical Blog
One liners and quick explanations
About aspects of Theosophy
H P Blavatsky is usually the only
Theosophist that most people have ever
heard of. Let's put that right
The Voice of the Silence Website
An Independent Theosophical Republic
Links to Free Online Theosophy 
Study Resources; Courses, Writings, 
An entertaining introduction to Theosophy
For everyone everywhere, not just in Wales
Classic Introductory Theosophy Text
A Text Book of Theosophy By C W Leadbeater
What Theosophy Is  From the Absolute to Man
The Formation of a Solar System  The Evolution of Life
The Constitution of Man  After Death  Reincarnation
The Purpose of Life  The Planetary Chains
The Result of Theosophical Study
Try these if you are looking for a local group
UK Listing of Theosophical Groups